Birmingham Movers
You're looking for a local moving company to take care of your personal belongings, but you're faced with an endless list of corporate businesses and day labor movers. That's when you come across Easy Moves Moving & Storage; the diamond in the rough! Here at Easy Moves Birmingham, we take pride in the quality and timeliness of our work! The safety of our crew and customers is of utmost priority.
Your safety and the safety of our crews and office staff is our number one priority in these uncertain times. We are monitoring the situation on a daily basis to ensure that we are taking proper precautions. If you have any questions in regards to our COVID-19 policies and procedures please feel free to send us a message via our contact form or give us a call at (205) 434-1615.
Quality You Deserve
Since 2016, Easy Moves Moving & Storage has strived to set the bar for quality moves. The Birmingham area was saturated with day labor moving companies and we knew we had to make a change. Why did we have to make a change? Because Birmingham deserves better. Read more here»
"The movers were on time and very professional. They took the time to explain all of the paperwork and handled our items with care. They were super friendly and made the move smooth. I would definitely recommend Easy Moves and will use in the future if needed."
OFFICE HOURS
Mon:   8:00 a.m. – 5:00 p.m.
Tue:    8:00 a.m. – 5:00 p.m.
Wed:   8:00 a.m. – 5:00 p.m.
Thu:    8:00 a.m. – 5:00 p.m.
Fri:      8:00 a.m. – 5:00 p.m.
Sat:     8:00 a.m. – 10:30 a.m.
Sun:   CLOSED
REVIEWS (★★★★★ 4.5)
or fill out our contact form here»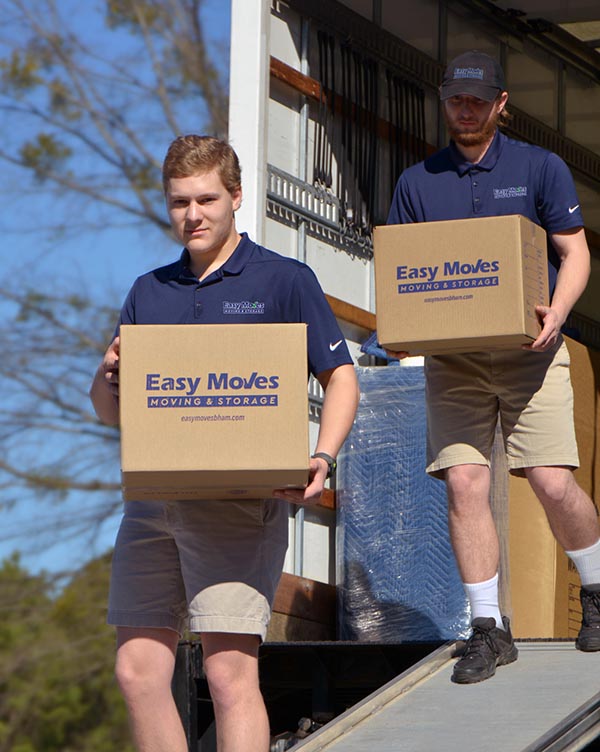 Our Mission
Since it's inception, Easy Moves has paved the way for a new generation of moving companies. The founder of Easy Moves Moving & Storage believed in creating a new type of moving company. The goal? A moving company that truly put it's customers and employees first. The moving industry has been long defined by it's shady business tactics, high turnover, and toxic work culture. Easy Moves had a vision. So what'd we do? We made that vision a reality. The Birmingham area had a moving company vacuum that needed to be filled.
Family Movers
Easy Moves Moving & Storage has and will always be a family company. Easy Moves is a moving company run by movers. We know the ins and outs of the moving industry. You know that your belongings are in good hands with our highly trained movers. Every mover is hand picked and trained hands-on with movers that have years of experience. 
Z

Licensed

Z

Insured

Z

Bonded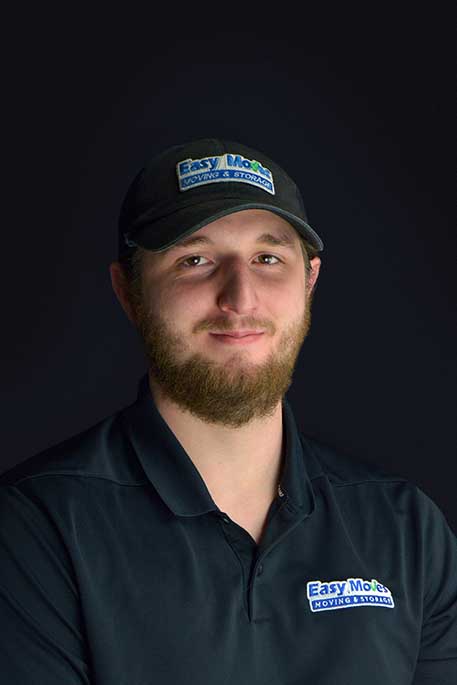 Robert Hinds II
Operations Manager
Robert joined the Easy Moves Moving & Storage team as just a mover. It wasn't long before he progressed through the ranks rising from a mover to a driver. Robert holds the title for the fastest Easy Moves team member to become a Crew Leader. With his impeccable understanding of moving and customer service it's a no-brainer that he was destined for management. Call Easy Moves Moving & Storage Birmingham now to experience moving made easy by Robert.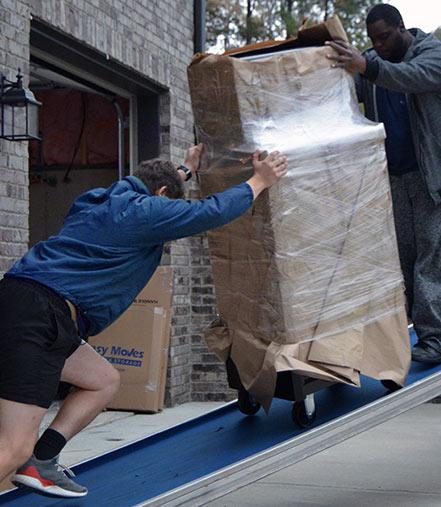 Experienced Movers
Moving can be stressful and we know it. That's why Easy Moves Moving & Storage is here to help make your move stress-free. With over a decade of moving experience under our belt — we like to think we are a moving company that knows what we're doing! Here at Easy Moves Birmingham we don't believe in good service, we believe in excellent service! Easy Moves Moving & Storage is a Birmingham moving company you can trust. You can be sure our movers will be the best you've ever seen!
Need Storage Solutions?
Easy Moves Moving & Storage is here to help! We partner with the best Birmingham storage facilities such as CoolBox, Morningstar, and Metro to name a few. Here at Easy Moves Birmingham we believe in excellence and that's why we are working hard on a list of our top picks for storage facilities in the Birmingham area! Coming Soon!
SERVICE AREA
Alabaster, Bessemer, Birmingham, Calera, Chelsea, Gardendale, Helena, Homewood, Hoover, Irondale, McCalla, Montevallo, Mountain Brook, Pelham, Trussville, Vestavia Hills, and more!
Our Services »
Privacy Policy »
Careers »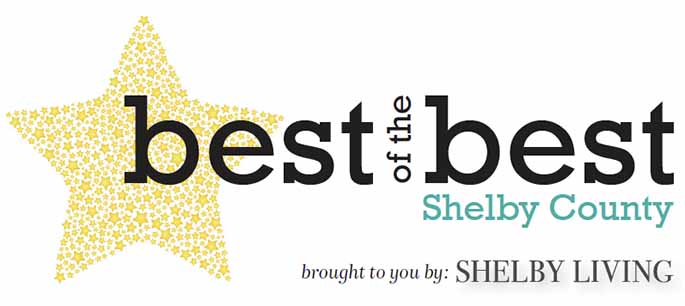 Best of the Best Shelby County
shelbyliving.com
Easy Moves Moving & Storage was picked as the best moving company for all of Shelby county by Shelby Living for 2017!
"Who's the best? We asked, and you answered. Thousands of votes were cast in Shelby Living's annual Best of the Best contest. Read on to find out our readers' favorite businesses, restaurants and venues in Shelby County."