⌂ › Transparency You Deserve
Turning a New Leaf
What is 'Transparency You Deserve'? You might ask. It's Easy Move's new initiative to change the moving industry for the better! The moving industry has been defined by shady practices and businesses for too long. 'Enough is enough.' we said. That is why Easy Moves is here to reshape the industry standards as a whole. Starting with the simple task of publicly posting our hourly rates and much more! Let's dive into what all we've done and plan to do!
Starting in 2021, Easy Moves began to openly post our hourly rates. Why? Because it's the right thing to do. Do you have to call Nike to get a price on sneakers? No. But why is it 'the right thing to do'? Customers should come first. Something as simple as transparent pricing is the first step towards a better customer experience overall. But there's more to come!
"The movers were on time and very professional. They took the time to explain all of the paperwork and handled our items with care. They were super friendly and made the move smooth. I would definitely recommend Easy Moves and will use in the future if needed."
OFFICE HOURS
Mon:   8:00 a.m. – 5:00 p.m.
Tue:     8:00 a.m. – 5:00 p.m.
Wed:   8:00 a.m. – 5:00 p.m.
Thu:    8:00 a.m. – 5:00 p.m.
Fri:      8:00 a.m. – 5:00 p.m.
Sat:     8:00 a.m. – 10:30 a.m.
Sun:   CLOSED
REVIEWS (★★★★★ 4.5)
or fill out our contact form here»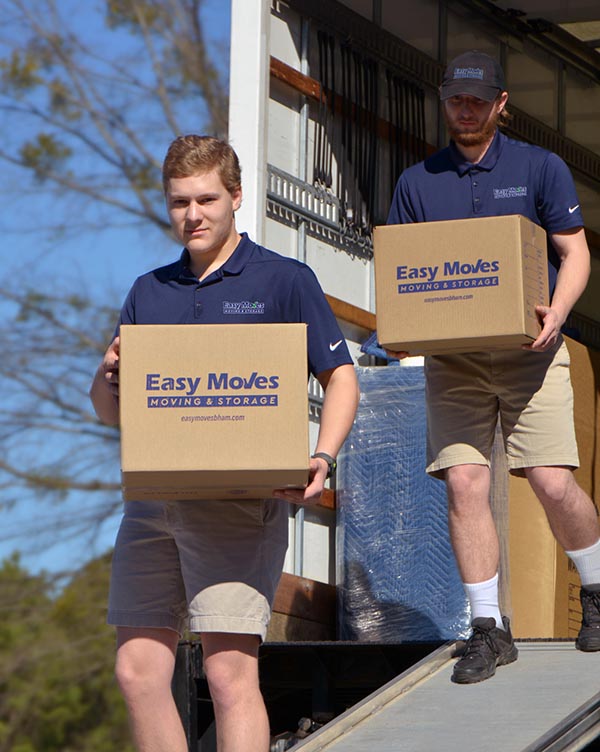 Our Mission
Since it's inception, Easy Moves has paved the way for a new generation of moving companies. The founder of Easy Moves Moving & Storage believed in creating a new type of moving company. The goal? A moving company that truly put it's customers and employees first. The moving industry has been long defined by it's shady business tactics, high turnover, and toxic work culture. Easy Moves had a vision. So what'd we do? We made that vision a reality. The Birmingham area had a moving company vacuum that needed to be filled.
Family Movers
Easy Moves Moving & Storage has and will always be a family company. Easy Moves is a moving company run by movers. We know the ins and outs of the moving industry. You know that your belongings are in good hands with our highly trained movers. Every mover is hand picked and trained hands-on with movers that have years of experience. 
Z

Licensed

Z

Insured

Z

Bonded