⌂ › Resources › Packing Tips and Tricks
Easy Moves' Top Tips
Moving is considered one of the most stressful times in a persons life. If we had to guess which part makes people the most stressed; we'd pick packing. People tend to underestimate the amount of things they have and put off packing till it is too late. So, our first top tip is just that! Start packing as early as you can! Looking at houses? Start packing unused articles and appliances! You may think you're going to use the ice cream maker soon, but are you really going to? Go ahead and pack it up. Second, don't use the wrong packing materials. We'll dive into the packing material basics below.
Premium Packing
Just as a reminder, Easy Moves offers full service moving! That means you can just sit back and relax as we do the packing and moving for you! If you're interested in learning more about our packing services read more here». If you're interested in purchasing our premium packing materials give us a call at (205) 434-1615 and ask us how to get free delivery!
"Steve, Will, Vaughn & Chandler did a fantastic job packing and moving our home to storage! I can't say enough about how professional they all were. They worked hard and got the job done! It was a lot to pack, move and store. They treated all of our belongings like they were their own. They even had to find some things we didn't mean to store and they went the extra mile to help me find what I was looking for! All this completed on two very hot days! Thanks, guys!! I'll call again for our next move!!"
OFFICE HOURS
Mon:   8:00 a.m. – 5:00 p.m.
Tue:    8:00 a.m. – 5:00 p.m.
Wed:   8:00 a.m. – 5:00 p.m.
Thu:    8:00 a.m. – 5:00 p.m.
Fri:      8:00 a.m. – 5:00 p.m.
Sat:     8:00 a.m. – 10:30 a.m.
Sun:   CLOSED
REVIEWS (★★★★★ 4.5)
or fill out our contact form here»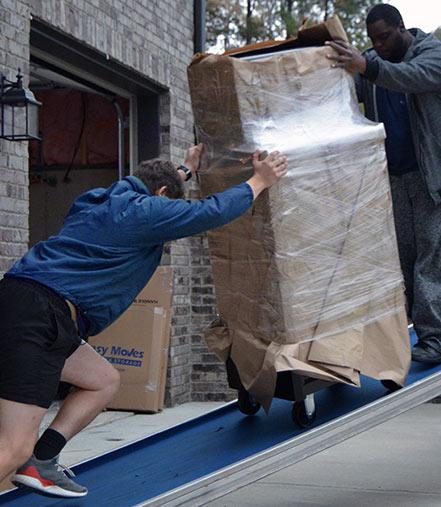 Easy Moves' Packing Tips
Below you'll find some of our top tips and tricks for a successful pack job and move. If you have any questions about packing or need professional packing advice for a unique piece—give us a call!
Do Not Over Pack Boxes
Over packing a box could lead to the box bulging which leads to instability. A stable box stack is less likely to shift and fall during transport. When in doubt, pack another box! Don't over pack one box just so you can "save" another box.
Heavier Equals Smaller
Heavier equals smaller? What does that even mean? It means the heavier the item the smaller the box. For example, if you're packing books, then opt for the smallest box possible. Extra large boxes shoulf only be used for large and light articles such as comforters.
SERVICE AREA
Alabaster, Bessemer, Birmingham, Calera, Chelsea, Gardendale, Helena, Homewood, Hoover, Irondale, McCalla, Montevallo, Mountain Brook, Pelham, Trussville, Vestavia Hills, and more!
Our Services »
Privacy Policy »
Careers »
Start Packing in Advance
As mentioned above, start packing as early as possible. Packing takes on average nearly two times longer than you think! Nothing is more stressful than hurriedly packing on the day of your move. Start packing as soon as you're dead set on moving. The earlier the better!
Packing Small Items
When packing small knick-knacks be sure to label the box accordingly and wrap the items in unique paper or tightly so you can differentiate a wrapped piece from an empty piece of packing paper. When unwrapping paper be sure to thoroughly unwrap every wad and set aside empty paper. Putting the paper back into the box may lead to someone assuming the box is full of trash and subsequently throwing it all away. We've seen it happen time and time again!
Mixing/Sharing Boxes
Try not to mix items from different rooms in the same box as doing so will make unpacking more confusing and time consuming. Packing boxes by room will make unpacking much faster. Be sure to label boxes based on their room and contents to expedite the unpacking process.
Taping & Closing Boxes
Do not close boxes by interlocking the flaps as they will not be stackable. Tape the tops and bottoms of boxes closed with two pieces of tape ensuring that both the bottom and top of the box are flat and stackable. You can tape along the edges to add additional rigidity if needed.
Dishes & Glassware
Dishes and glassware must be packed with utmost of care as to prevent damages. Each dish should be packed in ink-free packing paper and/or bubble wrap. Cups and glasses should be packed in paper with cushioning. Dishes and glasses should be packed snugly, but not too tightly. Remember to fill voids with cushioning to prevent shifting and to pack heavier items towards the bottom to prevent toppling. You can use towels, oven mitts, etc. as cushioning or purchase some of our excellent bubble wrap and packing paper. 
Essentials Kit
Pack a box or bag with toiletries (toilet paper, toothpaste & brush, soap, etc.), disposable kitchen utensils, snacks, chargers, basic tools, and remotes. Having this box at your new place will make settling in much easier. Nothing is worse than wanting to take a shower after a hard move only to be stuck digging through boxes to find some soap!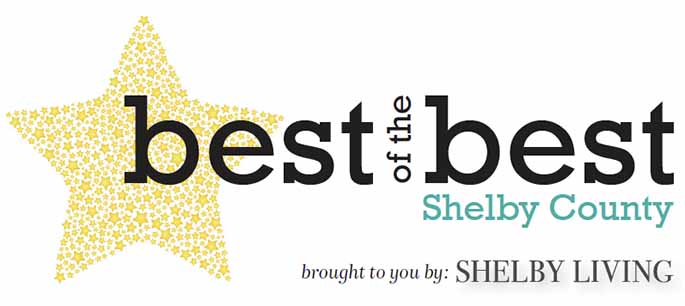 Best of the Best Shelby County
shelbyliving.com
Easy Moves Moving & Storage was picked as the best moving company for all of Shelby county by Shelby Living for 2017!
"Who's the best? We asked, and you answered. Thousands of votes were cast in Shelby Living's annual Best of the Best contest. Read on to find out our readers' favorite businesses, restaurants and venues in Shelby County."