Getting Rid of Stuff Before Your Move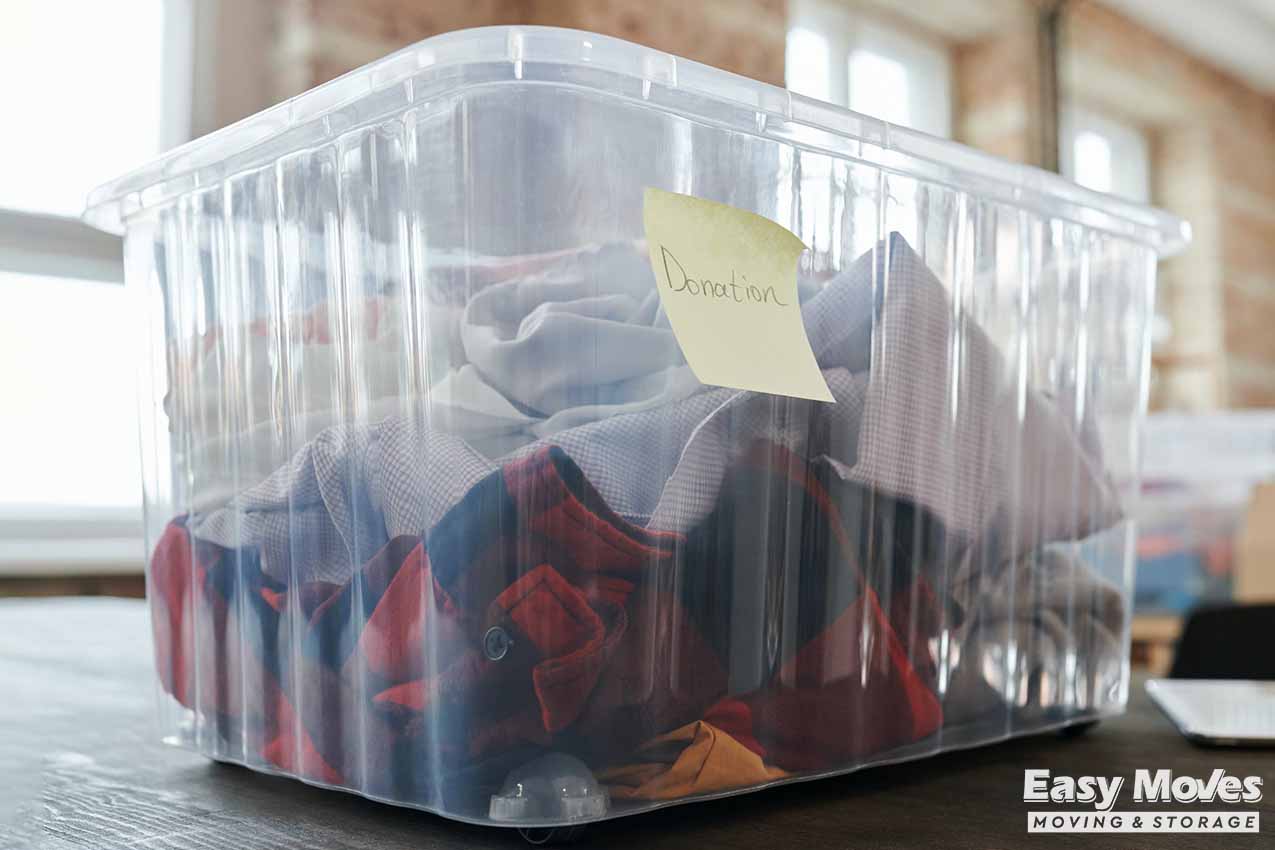 Your move date is looming, you've already hired some movers, but you still have packing and decisions to make. You have some belongings and furniture that you no longer care for, so what can you do with it all? There's quite a few options for you to choose from! From donating to selling—you have plenty of great options! We'll go over the best and worst options in this article. Let's dive right in!
Why is this decision important?
While this may seem like an aspect of your move that you could spend the least amount of thought on—it's actually something you should really consider! There are three big benefits to getting rid of unwanted stuff and they are:
1) Saves you money
First and foremost, it saves you money! How? You might ask. Simple. Less stuff to move/pack means less packing supplies and less labor hours you have to pay for. If you plan to buy a new couch at your new place, you can save some money by choosing not to bring it in the first place! Here at Easy Moves, it's all too often that we move furniture into a new home only for the customer to say "I plan to replace it anyway", you could have saved hundreds by deciding to get rid of furniture prior to our arrival! Another example of the importance of move planning.
2) Can make you money
Another benefit can be the fact that it can make you money! Selling your unwanted belongings is a great way to make some extra cash prior to your big move. We'll go over our steps for how to decide what you do and don't need later. According to Rural Living, people on average make $1,577 selling their unwanted belongings and according to My Moving Reviews, "…the national average cost of a local move is about $1,500…". That means that you can pay for your move by selling things you didn't want/need anyway!
3) Can be green
Depending on what you opt to do with your old stuff it can be the green thing to do. While it can be tempting to do the easy option of just throwing stuff away, I hope we can all agree that there are by far better options! Not only can being green be good for your conscious, but it is also great for your community! According to WalletHub, the greener a city is can have a direct link to how happy a city is! While Birmingham ranks 116 out of 200 for the largest cities in the US—it ranks at a mere 169th place for the top 200 happiest large cities. C'mon Birmingham, we can do better!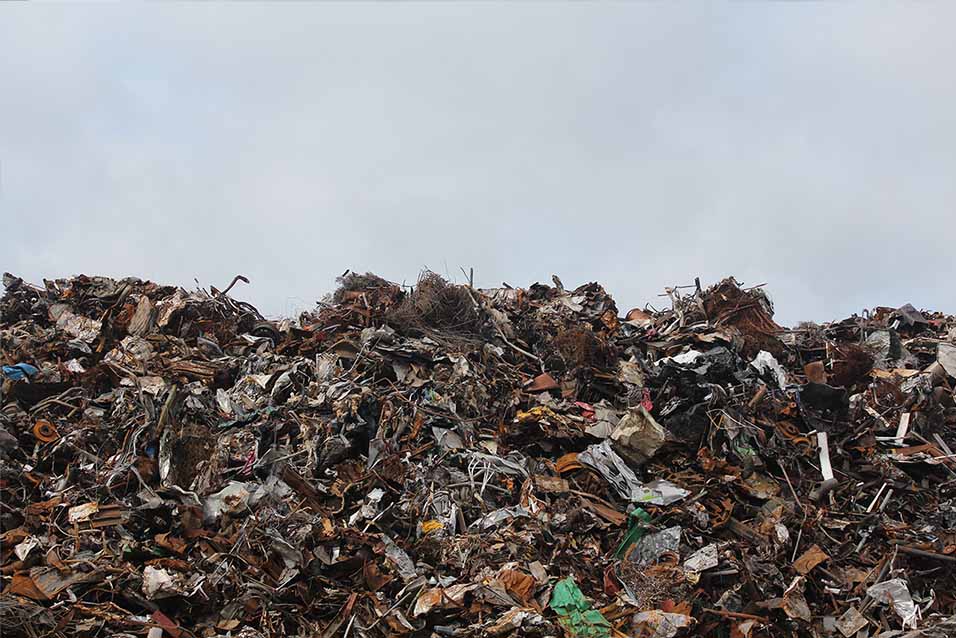 While it can be convenient to simply throw things away—we all need to do our part to reduce waste. Image source: Emmet
Steer clear of these options
Let us start our options of how to get rid of your belongings that you don't care for with what not to do. While it may seem like there really isn't any "bad" options—that can't be further from the truth! Here are two things not to do:
1) Throwing stuff away
Unless absolutely necessary or the only option, we strongly advise against throwing stuff away. Especially illegally dumping! Illegal dumping ruins the community and when you're caught the fine can be $500! Keep Alabama clean and beautiful by not dumping.
What are your options for articles that are not sellable, donatable, or useful? Recycle, scrap, or "freecycle".
A) Recycle
Recycling can be all the rage but it is actually the last step of recycling. "Reduce, Reuse, Recycle". Things that you may have that you can recycle instead of reusing could include things such as product packaging you've held onto, old newspapers/magazines, cardboard, etc. Just be sure to reuse when possible such a using old newspaper as packing paper and bubblewrap/air pillows from products for protecting your belongings in your packed boxes.
B) Scrap
Have broken appliances? Sell them for scrap! While it may not be a lucrative as selling working appliances—scrapping can get you some cash for something you planned to throwaway anyway! Things that are worth the most in scrap value are metal heavy appliances and belongings. The more metal and less plastic the better.
C) Freecycle
We've all heard "one man's trash is another man's treasure". A broken appliance could be a simple fix for a hobbyist, old computer parts could be a prize addition to someone's collection, and so on and so forth. If you have anything of no value try to give it away for free! Someone might be more than happy to take it off your hands! Try "freecycling" on Trashnothing.com
2) Setting stuff on the curb
We've all seen the lowly dresser sitting on the side of the road with a "free" sign taped to it. Depending on your hobbies you might even be the type to take it! But did you know that in most cities it's illegal and could land you a fine? In NYC that fine could be as high as $100! With that being said, just be sure to check with your city before placing unwanted furniture on the curb.
PRO TIP: Simply ask your movers to take your unwanted belongings for donation. Here at Easy Moves, we partner with local foundations for furniture and clothing donations.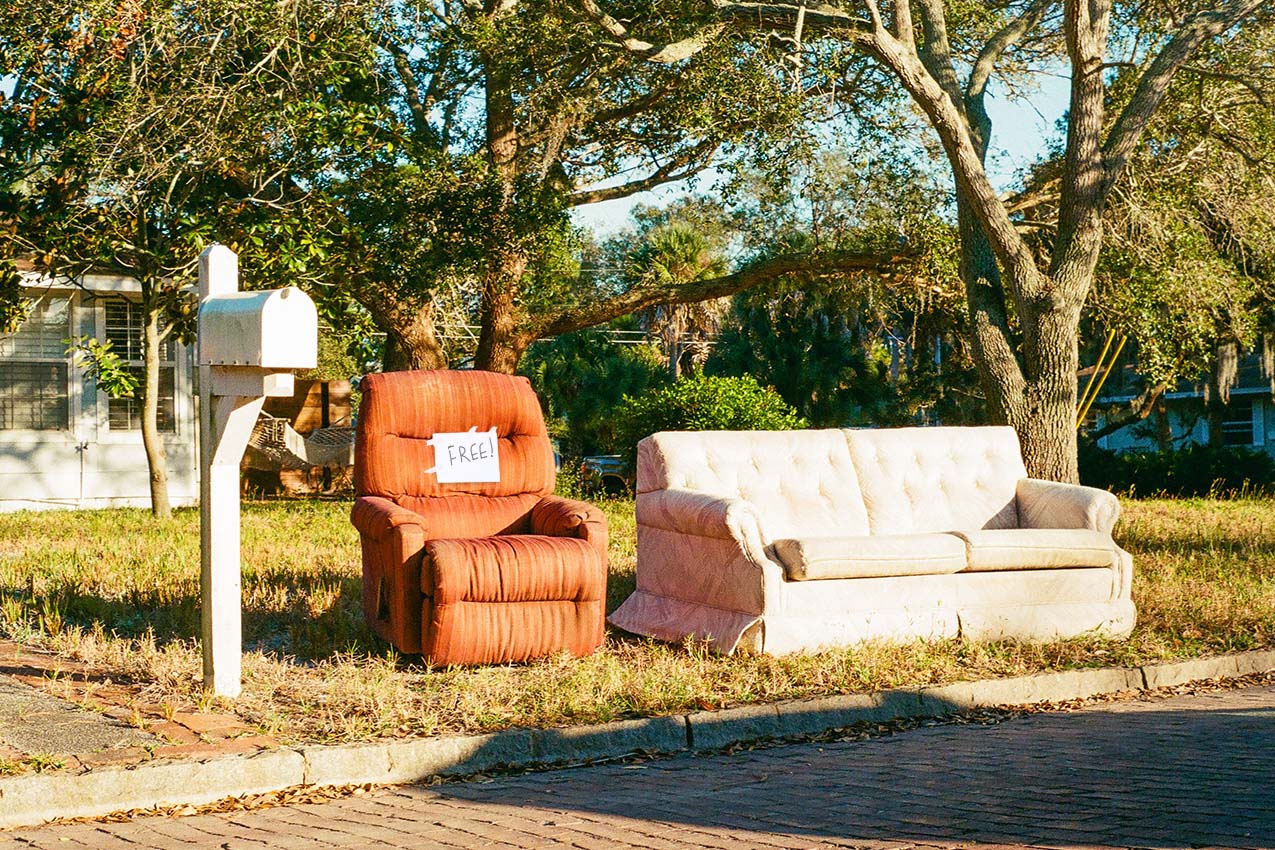 Check with your city's ordinance before setting stuff on the curb for free or else YOU may be the one paying. Image source: Photo by Riley Pitzen
"Sharing unneeded furnishings with charitable organizations can also be part of your efforts to incorporate green living strategies into your lifestyle… There's no sense in allowing items someone might be able to use to clog up landfills, especially when there are nonprofits actively seeking donations of used furniture."
Easy Moves' Recommendations
So now that we've gone over how not to get rid of your unwanted furniture and belongings—lets go over how you should! 
1) 
Sell
Selling your unwanted belongings and furniture is a great way to make some extra cash! As mentioned above, you can easily pay for your move by selling things. While you could try to hold a garage sale or sell in other more "traditional" methods, we recommend that you sell your items online. With great options such as Facebook Marketplace now available, you can have more confidence selling online. The only drawback to selling your unwanted furniture online is that it can take time. From our experience, it takes on average between 5 – 10 days to find the right buyer and make the sale. You'll have to endure the scammers and the low-ballers for that time span. Use this guide by Webroot to learn how to sell things safely online.
2) Donate
If you don't need the extra money then we recommend donating your unwanted belongings! Donating is a not only a great way to help your community, but it can also be used as a tax write-off! Donations are sold by foundations to raise money for their cause while the item you donated is usually sold at a bargain for someone that may be in need. Depending on your financial situation, donating may be actually be better for tax reasons. Check out this article by NerdWallet to learn more about donations and their tax benefits.
"For the 2021 tax year, you can deduct up to $300 of cash donations per person without having to itemize, meaning a married couple filing jointly could deduct up to $600 of donations without having to itemize."
3) 
Give things away
I know what you're thinking. "Isn't giving things away the same as donating?" Definition wise? Sure. But in this context I mean giving things to your friends, neighbors, and family. Helping the people that are the closest to you (literally closest when talking about neighbors) is a great way to forge stronger bonds with the people that matter the most! Buying a new couch at your new place? Ask your friends if they'd want your old couch. Someone you know may be having a hard time financially to furnish their place but are too afraid to ask. We can all learn to care for our friends and family a little better! 
Moving doesn't need to be stressful! If anything it should be exciting!
Final Thoughts
Here at Easy Moves, we strive to make your move as easy as can be! Have some garbage to take to the dump? We can take it for you! Want some stuff taken to a donation center? We partner with some of the best facilities around and will take it for you! Call us at (205) 434-1615. Not using our moving services? Doesn't matter! We're here to help, so give us a call today!
Need professional movers? We got your covered! Get an estimate today by filling out our contact form or calling us at (205) 434-1615!